"Time Will Tell" S2E01 Review - A Warehouse 13 Fancast AA13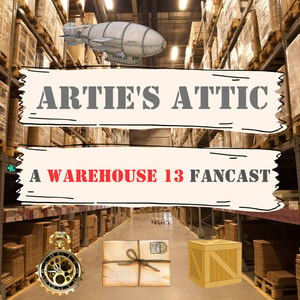 Artie's Attic is a Warehouse 13 Fancast
Warehouse 13 Lead Agent Shannon finally gets her wish as HG Wells joins the show and she celebrates by bringing her youngest daughter, Agent Bear, on the podcast. Agent Carolyn has trouble pronouncing Imperceptor and remembers the episode's great quotes while Janitor SP uses every air freshener at his disposal to remove to smell of fudge from the warehouse. The Agents review and rewatch the season 2 premier S2E01 "Time Will Tell." The Agents notice how the show changes into season 2, root for Claudia's success, commiserate with Leena, and spend some time discussing how the Warehouse is a character itself.
Thank you so much for listening to our coverage of Warehouse 13. Artie's Attic: A Warehouse 13 Fancast will release Thursday nights most weeks.
Stay tuned for some bonus audio clips at the end of the episode.
Email: [email protected] X: https://www.x.com/syfygurl X: https://www.x.com/ocean363
Best place to find SP: http://www.GonnaGeek.com/discord
All music and sound effect used on this episode were purchased on http://www.pond5.com
Find more Artie's Attic content and other shows on the Lone Wolf Podcasts network at: http://www.lonewolfpodcasts.com